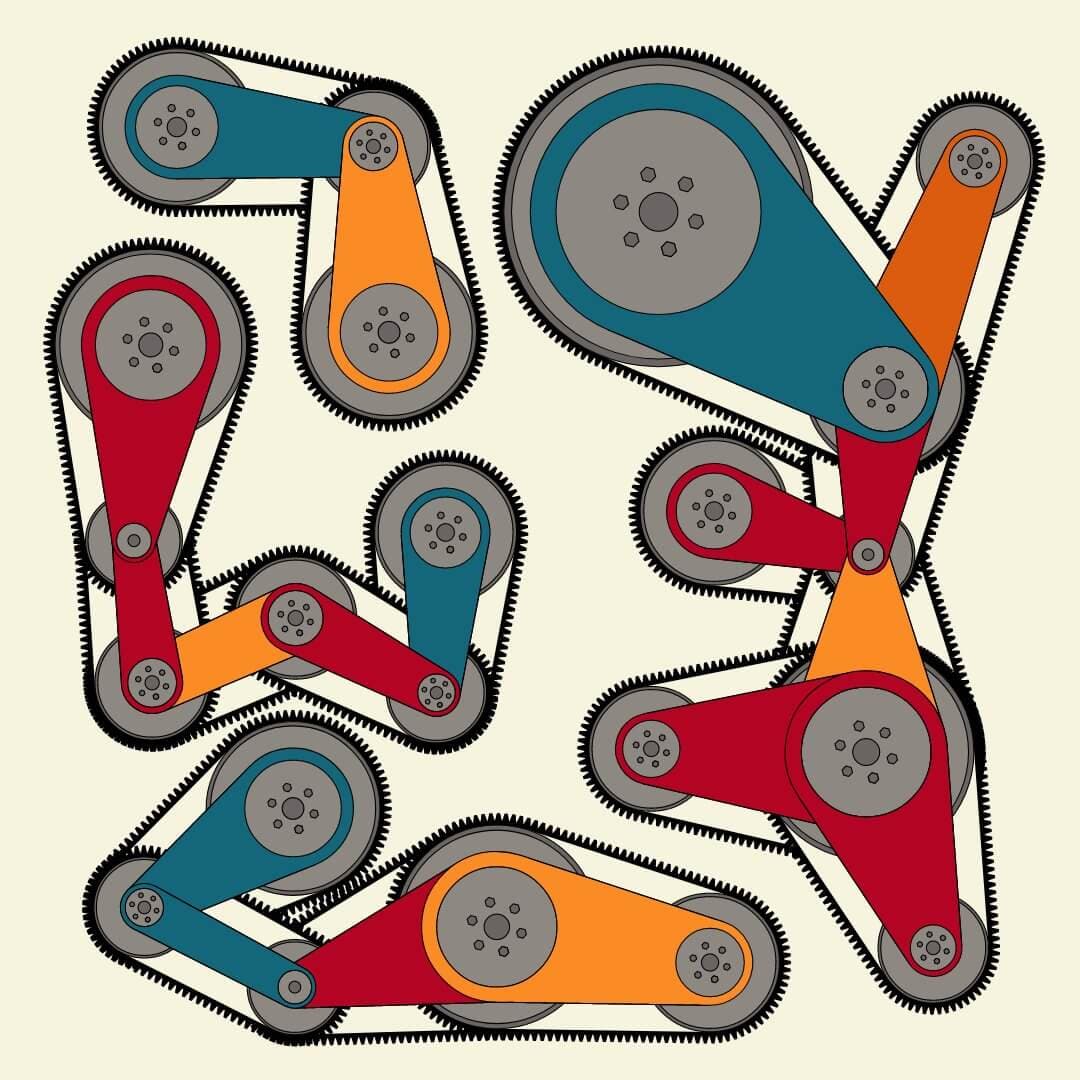 Machines

Caleb Ogg
Showcasing his work for the first time in 3D, Machines is a 300-piece generative collection from Caleb Ogg that takes his signature geometric style to the next level. Inspired by the way circles interact, almost forming gears, Machines incorporates both real and abstract mechanical components, and will allow collectors to manipulate the work themselves, becoming part of Caleb's creative process. To interact with your piece, click on the art and press "h" on your keyboard
Machines: Where generative art meets collector engagement
In his debut Wild collection, Machines, Caleb Ogg takes his signature style of geometric art to the next level with interactive viewer experiences. Not only will collectors be able to manipulate each piece directly, but they will also have the ability to view each layer in these intricate works to see exactly how the piece came together. 
Caleb has been creating geometric art for more than 15 years, and his passion for generative art began at a young age. "I used to draw a lot in class when I should have been listening."
Machines builds on concepts that Caleb has explored throughout his career. He began using coding techniques in his work in 2018. Machines was originally inspired by the concept of circle packing, which is the process of arranging circles across a given surface without any overlap. Caleb initially created a set of works exploring this concept in 2021 and was motivated to explore this process further, thus Machines was born.
Caleb began by exploring the relationships between circles and how they would visually connect and interact. These circles eventually began to resemble mechanical systems like engines and conveyor belts. The natural kinetic energy in these forms inspired Caleb to animate the pieces in Machines. 
"I like to think my work reflects a thorough examination of the parameter space and an attention to detail," Caleb says. "Machines is the culmination of months of work and combines some of my favorite concepts I've worked with over the past year." It's easy to get lost in the rich detail of Machines, which features both realistic images of gears, conveyor belts, and other mechanical components as well as abstract images, emblazened, of course, in Caleb's signature bold color palattes. 
Each piece in Machines is animated using a p5js script and has a unique color palette, animation speed, number of components, and scale of each component. Each of the wheels, gears, and other components comes in a variety of different styles as well. 
Due to the extremely detailed nature of Caleb's work, even the smallest adjustments result in dramatic changes to the overall composition. For example, adjusting the wheel sizes changes the number of components that fit into each piece, which then changes the scale of the piece. After acquiring the piece, collectors will be able to digitally manipulate the artwork on their own, zooming, rotating, and translating the piece to explore it from different angles and see all of the intricate details. 
Collectors will also be able to take digital snapshots of the piece as they manipulate it, providing a way to find their own creativity within the piece and essentially create new works. The ability to view all of the layers within the piece also gives collectors a behind-the-scenes look at Caleb's creative process and the level of detail that goes into the work. 
Caleb is based in Denver, Colorado. Outside of his artwork, he enjoys hiking, snowboarding, and mountain biking. Just like the pieces themselves, Caleb's daily creative routine is calm and methodical. Before starting work each day, he takes time to tidy his space and set up music for the day, whether that's on Spotify or on his vintage radio. He cycled through a variety of different genres while creating Machines, ranging from classical and jazz music to electronic, hip-hop, and classic rock. Coffee and tea breaks paired with plenty of walking helped keep the creative process feeling fresh.
With Machines, Caleb continues to push the boundaries of his signature geometric art style. Moving forward as a full-time artist, he plans to further explore coding, animation, and generative art practices. In addition to supporting his work, Machines collectors will be placed on an allow list for future projects. 
About the Artist